If you are seriously considering to own a cheap massage chair, there are many choices in terms of performance and features. The massage chair is a great health solution today. Especially for people who require therapy for a better mental and physical health. Benefits are innumerable. A massage chair could help you lower anxiety, increase blood circulation, lower blood pressure, relieve your muscle pains and headaches. All these results in sleep improvement and stress reduction.
We are here to guide you. Look into the performance and features of the massage chairs. Choose the model those fulfill your requirement best. It is a bit difficult to research on a good product but it is nothing impossible. You have some factors which are key indicators. These key factors easily tell you which chair to buy. Our article illustrates these major points of a massage chair. You get a vivid guideline here. Pick your product in less time effectively.
There are many massage chair manufacturers in the market. They offer various designs, feature, and performance. Every company incorporates characteristics based on their cultural preferences and target customers. All the companies are aware that their customers are looking for cheap massage chairs but quality products.
A massage chair is a big and heavy thing. It comprises several components. The steel frame of the chair itself is quite heavy. Besides that, you have air-bags for all major body parts, rollers magnets, and technical stuff like motors, motherboard, heating elements, wiring, air-hoses, and speakers. Therefore the best massage chairs are quite large in size than common recliners.
Our research shows that, besides therapeutic conditions, people look into a massage chair's design. Many people want to keep it in their bedroom. Therefore they consider the aesthetic matter seriously. However, the best massage chair does not necessarily satisfy the desired look, because, ultimately its purpose is providing a health solution, which mainly addresses reflexology. Therefore, the appearance of a massage chair cannot be taken into first consideration. Customers also prefer the latest massage chairs today. Not only that current models give better performance but their parts are also much more easily available.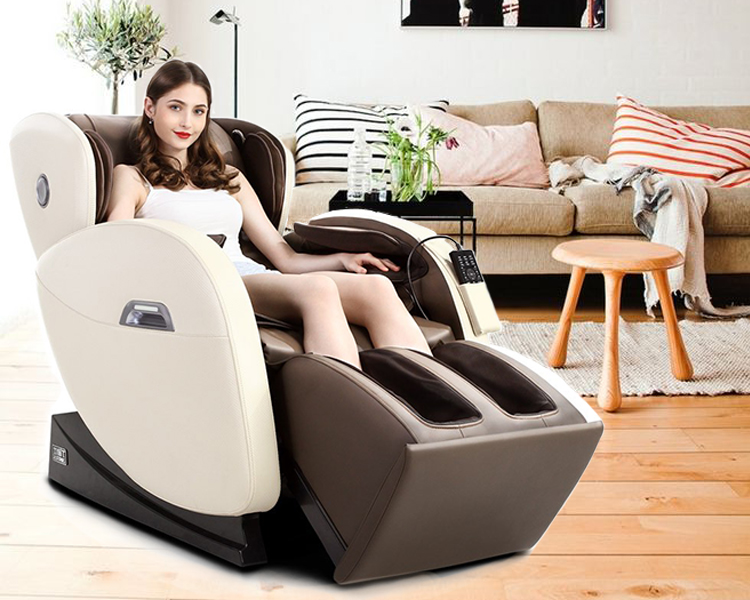 Buying Guide For Best Cheap Massage Chair
If you have decided to purchase a massage chair it requires some serious thoughts and research. Certainly, the investment is not small and the benefit in return is also not for just a year or two. You need to consider important points and factors pertaining to the product. A rough look or study is often not enough. Learn the most important features and your benefit first. Finally just go for the product you really need. Today you have a number of a massage chair in the industry. Their therapeutic conditions, benefits vary. They offer are a broad range of functions. The focus of one product does not always match the focus of another.
Warranty
Choose a massage chair with an extended warranty. This is a critical factor. A 5-year warranty is a good period in the case of massage chairs. Longer warranty period than 5-year could be confusing. Because if it is often referring to the frame inside. Who will be with you so long? It is quite suspicious. It is best to call the company, which says they provide a warranty more than 5-years. Check are they any original manufacturer; are they from the USA or outside the USA. What sort of support would they provide if there is an issue? Will they come to your house within the warranty period if any support is needed? Talk with their technical team and sales team both. If the company could logically and consistently reply to your critical answers, fine. Otherwise, their reliability regarding warranty and other information would be questionable.
If the warranty period is not a vital point for you, any repairs that might be required is something very important to consider. Make sure that the manufacturer ensures you regarding any issue or repair of their massage chair.
Full-body Depth of Massage
One major point to consider is the full-body massaging ability. Full-body therapeutic benefits provide the maximum utility. You will want to spend on something which would give the in-depth natural massage feeling. Most buyers seek full-body massage chair that is designed for optimal therapeutic depth of motion and range. When you get a massage from such a strong massage chair, it is like sort of working out really.
A good massage chair's massage would not feel painful and mechanical. It will rather make you feel smooth, comfortable, and balanced that resembles human touch.
Ease of maintenance
This is a very important feature, which you should never ignore. If the maintenance is difficult the purchase of a massage chair becomes frustrating.
Simple repair should be easy for the buyer – yourself. If the chair's design does not allow self-maintenance, this makes your life harder. Modular design chairs are better because they are easy to fix up when there's some simple issue. It is wise to know beforehand whether your target chair manufacturer gives you this option. Do not leave yourself confused about the 'ease of maintenance'. Ask your manufacturer regarding it.
Custom Massage Programs
Of course, you need a fully customizable massage chair. You have distinct requirements. A fully customizable massage chair should be the best buying option. In this case, you will have a remote control via which you will be able to have your custom massage.
If there is a one-button option with pre-designed massage program it is good. The program would provide relaxation, stiffness relief, shoulder massage, and stretching options.
What you need besides this is, focus on particular area massaging. Therefore, increase or decrease options are important.
Go for a massage chair that has options to store your favorite massages in its memory. From the program, you could easily select your massage later and have the therapy. This will ensure your massage chair is perfect for you. Hopefully, it will evolve with you for years to come.
Investment
Buying a massage chair means a good investment. You are planning to spend on a useful thing. Of course, you want additional features and something above average. Remember, high-end massage chairs cross $3,000. Even if you are looking for a cheap massage chair you need to spend around thousand dollars.
When we buy something important, especially which directly relates to our health and living, we think of the utility and return. Just because something is cheap doesn't attract us. We rethink the long-run benefits. We do not go for something only because it is affordable.
It is wise for you to look for the product that will serve your need. If there are a few additional things fine but do not go for a product which offers some therapeutic feature. Remember there are certain basic features, which all massage chairs have. You should address the best one with additional advanced features. Considering this point makes you an intelligent buyer and choose a bit expensive but very useful and quality product.